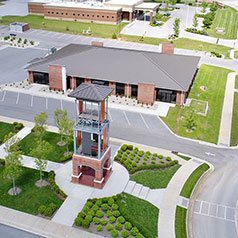 AN ATTRACTIVE SETTING
Located a few hundred yards behind Lake Cumberland Regional Hospital, the park is a spacious, nearby alternative to the bustling million-dollar-an-acre properties along Somerset's US Hwy. 27 commercial corridor.
The park is currently home to 19 offices and medical practices — drawing over 200 employees and 1000 vistors to the park each day. The expansive campus allows ample parking and attractive views of the countryside. While the park is a just a few hundred yards from the 259-bed Lake Cumberland Regional Hospital, it has a distinctly rural feel — a wonderful setting for any business.